Rock Bug Gets Ready for W.E.Rock Season Finale
&nbspBy
Thom Kingston
on 2009-07-16T07:14:00-06:00 |
The Rock Bug
,
W.E.Rock
Oroville's new man made course may be the toughest one yet.  Construction photos courtesy of Werocklive.
Less then a month ago, Reno Rock's hit the Sand's Regency Hotel and quickly became the most talked about competition of the year.  For Tracy & The Rock Bug, the entire 2009 rock crawling series came down to this one single event.  If they wanted any chance of winning the series, they had to finish 1st in Reno Rock's.  With the pressure on, Tracy & The Rock Bug showed the world, once again, why they compete with the best out there.  With an amazing 2 day performance, Tracy & The Rock Bug dominated Reno Rock's and took home a 1st place finish.
Now, heading into the season finale, Tracy & The Rock Bug are sitting 2nd in points for the series.  They have a long way to go to beat the series leader, Brad Lovell of Lovell Rock Racing, but as we know anything can happen in the finale.  Here are your series standings so far for both Unlimited & Pro Modified Classes:
The only notable upgrade made to the Rock Bug, in preparation for the season finale, was the installation of 2 chromoly shift forks for the Stak D300 2 Speed Transfer Case.  With the help of Ken from Stak, we manufactured a billet 4130 chromoly shift fork and normalized & heat treated the entire welded shift fork assembly.  Last but not least, we opted to weld the shift fork assembly to the shift rail instead of running the factory set screw.  The end result created an incredibly strong shift fork (about 8 times the strength of factory) that should hold up to the high demands of competition abuse.  Only time can prove that statement though, so we'll have to wait and see how this competition upgrade pans out.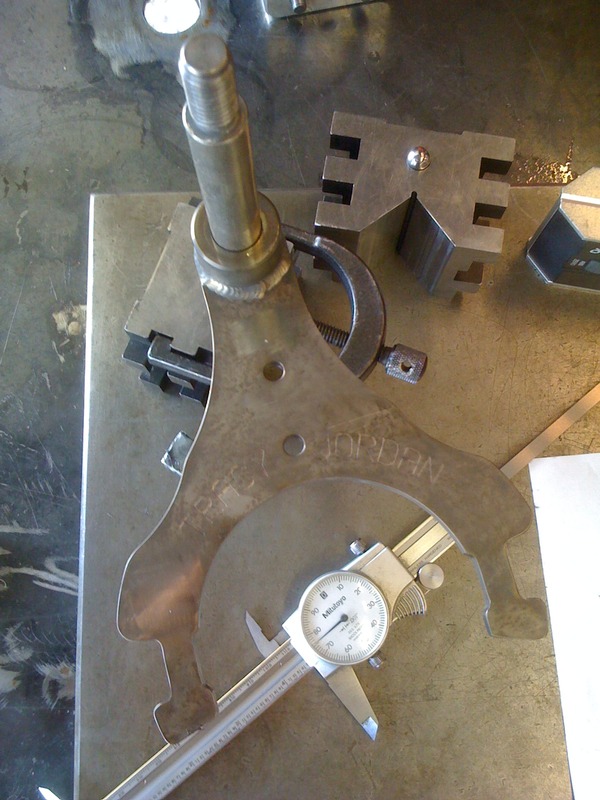 The "Tracy Jordan" Special Edition 4130 Heat Treated Shift Fork
The W.E.Rock season finale will take place in Oroville, CA this weekend (July 18-19th) and is guaranteed to be one action packed event.  For those able to attend in person, the event site will be held at Surplus City Jeep Parts and gates open at 9 am on Saturday.  For those unable to attend in person, fear not as live coverage will be available online.  Pirate4x4 typically broadcasts the best live coverage on the planet, so keep an eye on their main Home page for more details.  Also, don't forget to follow me on  Spidertrax's Twitter Account for additional live competition coverage.  As always, I'll post a blog entry at the end of each day of competition, complete with story and videos.  If you want to get these blog updates automatically by eMail, you can subscribe to our Blog using FeedBurner.  Now, I have to pack and get ready for Oroville.  Good luck to all the teams this weekend!